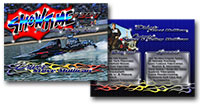 Dragboats.com can put together some amazing Hero Cards to hand out to fans at the races. We create all original artwork, and print on heavy-duty glossy cardstock.

Dragboats.com has a wide variety of drag boat racing themed stickers, including Bullet Top Fuel Hydros, blown flatties, and even jet boats, as well as personal watercraft stickers. All custom made to your color, and size specifications.
We can even draw custom decals of YOUR boat! Check out some of the samples that we have of boats that we have drawn over the years!