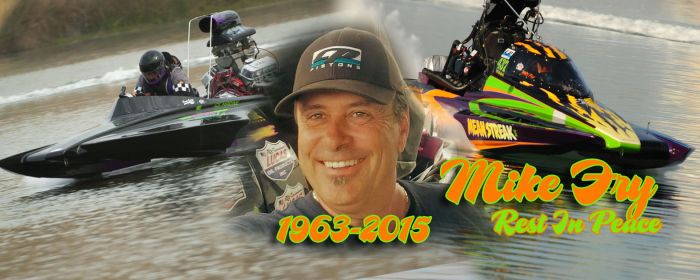 This posted on Jeff Fry's Facebook Page

Please Join us on Thursday August 20th at the Memorial Service for my Brother, Mike Fry. at Forest Lawn Memorial Park at 21300 E. Via Verde Ave, Covina Ca 91724.

He passed away on August 9th and was involved in a accident while racing at Marble Falls Tx. Mike loved dragboat racing and has been involved with dragoboat racing for over 15 years. On August 8th he surccomed to injuries due to the accident. We will miss him dearly and will not forget how many peoples lives he has touched. From his kindness, loving, firm self. Mike would go out of his way to help someone. Be it a family member or even a competitor at the races. He is survived by Denise Fry, his wife, Colin Fry his Son, Danika Fry his daughter. Maverick his grandson, and Riely his grandaughter. Father Ed Fry, Sister Mindy, and Brothers Robert and Jeff Fry.