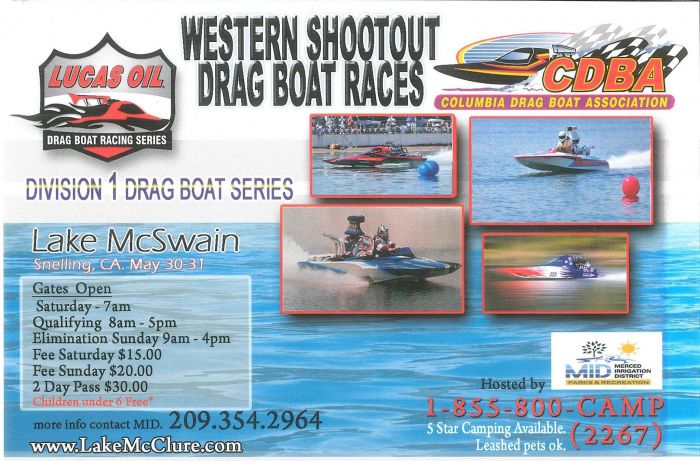 After about 14 hours in the car, I returned back to the Dragboats.com headquarters with NO pictures from the Western Shootout that was scheduled to commence this past weekend. Hearing all the hype and all the expectation, I figured this was going to be the start of a great history for racing in California again. Located about 30 miles from HWY 99 in the foothills of the Sierras, Lake McSwain is a very nice facility, and upon seen the course and the shore, I was blown away! Wow does this track have some potential. A huge credit should go to Dave Lipinski for getting this venue recognized for a potential race. Dave ran a test run of this facility last fall and it showed some real promise, and the Merced Irrigation District and park loved them so they wanted to host an actual race. Well that came to fruition when Lipinski got this event slated to run with the CDBA, and Lucas Oil Division I. The venue has lots of parking, pits and spectator area. I was so excited to shoot pictures at this venue, but all was not good.

In theory, all the ducks were in a row. Rescue team members from other associations were going to be performing the rescue duties and the course was set (although there were some logistical issues on Saturday morning due to depth of the lake, etc). The Rescue team were going to use the boats provided by the CHBA but that is where the issues started. Apparently the rescue personnel were not satisfied with the boats that were provided and that they felt they could not perform their function to the best of their ability with them. At that point, on Friday afternoon, Mike DeClark and several other NJBA racers/board members stuck their neck out and drove all the way back to Bakersfield to pick up the NJBA rescue boats so that the event would fly. After a 12 hour turnaround, the NJBA boats arrived at the track ready for action.......or so we thought. There was a problem with using boats for rescue that were not on the insurance rider for the event, and the powers that be (only who knows who that is), said NO GO! At this point, probably 80 boat racers, crews, and well over a 1000 fans, and vendors were told that the event was officially shut down!

What a horrible thing to happen to an event that had such potential. There was a lot of work and a lot of money put in to get this event off the ground. We can all piss and whine about it and blame someone, but the bottom line is, drag boat racing lost out on this deal. People may want to point the finger at Dave, or the Rescue team, or Lucas Oil, or whoever, but it won't do any good. Let's all make a collaborative effort to help this venue get an event. Don't point fingers, lets try to figure out how we can make sure this doesn't happen again at another site.

If there is a silver lining in this whole mess. Lake McSwain is a very viable option for hosting an event, even a national event. Ken Dollar was at the event, and even though not one boat went down the course, it showed that it is a viable option for California who is in dire need of an event after losing Chowchilla and Red Bluff in recent years. I hope and pray that the naysayers just keep their mouths shut and support the bigger picture. Just my two cents.........